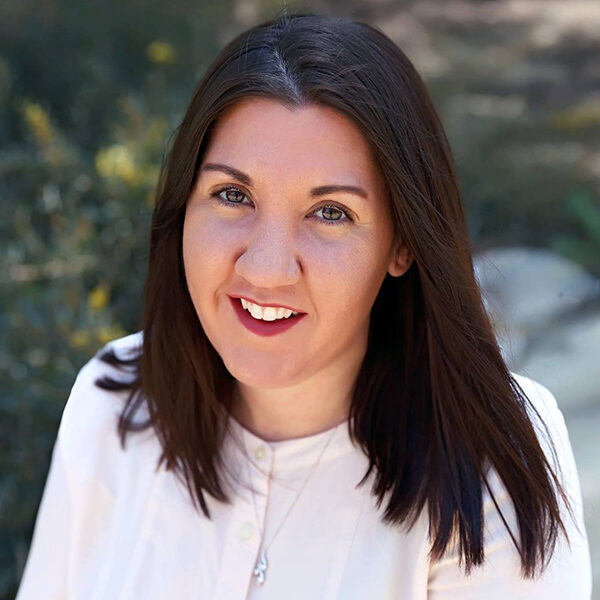 The Status Quo is Nowhere to Be Found During a Pandemic
Jess Weihe
Director or Marketing, Mustang Marketing
VCLA Cohort XXVI
"Listen to their voices," rung in my head — a sentiment expressed from an earlier speaker, as Michael Jump, chief deputy district attorney and director of victim and community services for the 
County of Ventura, shared with us why the ceilings in the new Ventura County Family Justice Center are painted like the sky. It's because a young girl who had experienced trauma suggested it, he told us.  Sometimes, she had explained to him while they were walking down the hallways, that in order to avoid eye contact during difficult conversations, she'd look up at the ceiling, and it would be nice to have something pretty to look at. "And now our ceilings have skies."
April 9 was our social services-focused day, and our first full-day, in-person cohort session since last year. Graciously hosted by Moorpark College (with a wonderful tour of America's Teaching Zoo mid-day — Jasmine the monkey is a girl after my heart), Cohort XXVI — we're virtually the best! — along with a few Cohort XXV members, listened to leadership from various county organizations and nonprofits share just exactly how they've been listening to those whom they provide services for.
This listening led to a lot of pivoting — that's no revelation, to be sure. Hasn't this year basically been declared the year of the pivot? If not, I'm declaring it. And with that being said, never have we seen such incredible examples of it than we have as through some of our local leadership and the work that has gone into restructuring and responding to a surge in need — not to mention a different type of need — during the pandemic. Janette Jauregui, the PIO for the county's Area Agency on Aging, for example, spoke to us about the transportation services they've mobilized for our senior community members to receive vaccinations, as well as about the millions of meals they've delivered to seniors throughout our county this past year. Prior to the pandemic, the support requests the agency handled — while it did provide food assistance — primarily focused more on housing aid as a leading need. Food Share CEO Monica White described the more than 300-plus pop-up food banks they arranged, and have been arranging, six days a week, throughout the county to respond to increased food insecurity. The numbers are staggering: millions of pounds food, more than 150,000 residents served each month. We even learned about the challenges of zoom counseling sessions from both Patti Yabu (interim director of community counseling services at CLU) and Tess Allen (executive director of the Diversity Collective) related to patient privacy when patients may not be zooming from a safe, private space. For example, Tess shared respecting one's gender identity via zoom, when they may not be in a home environment welcoming or aware of that gender identity, was new territory to navigate.
Through each experience shared, the resounding theme for me, always came back to that listening component. Organizations that provide resources and services to our community are already doing important, much-needed work — but that ability to adapt and change and expand services to meet the  new needs of so many is really what leadership and service is all about. Any one of these organizations could have continued operating just exactly as they had been (an already important service) — but they did more than that. They challenged themselves to dig deep and find solutions. In a pandemic, the status quo, not surprisingly, is nowhere to be found. And, in a time of true crisis for so many, they rose up to be that critical lifeline, demonstrating the power and capability of social services, and what we can accomplish when we work together.
Mid-morning, we stepped outside for an exercise. Gathered around in a large circle, Shawna Morris, CEO of Casa Pacifica, tossed out a ball. "Tell me one thing you know about Casa Pacifica." The ball was kicked and lobbed from person to person as we each shared a little tidbit. "I know about Casa's Angels." "Casa supports vulnerable youth in our community." "One of our cohort members, Susan Santangelo works at Casa!" "Casa's annual Wine, Food & Brew event is the best!" And so on. The exercise was a valuable one. I've heard about Casa Pacifica NUMEROUS times. I've been on their campus on more than one occasion when they've allowed other nonprofits to use some of their space. I "know/knew" of what they do … but when tasked with describing that, I found that there's so much this organization provides that I wasn't even the slightest bit aware of or at least not able to eloquently boil down to an elevator speech. By the end of Shawna's presentation, I was ready to figure out how to move mountains for this organization. Rinse and repeat after each speaker visit — talk about igniting a spark.
I left the session truly inspired, motivated and exhausted — and I know I'm not the only one. Whether it was an organization, like RaisingHOPE, that started out as a weekend walkathon to raise awareness for children in need of foster families or an organization that started from a woman's mission to glean leftover food to feed food-insecure families (Food Share) … each of these organizations and leaders has found a "gap" area of need in our community and addressed it — and then double down during a pandemic. Thank you.
How do you help? I'm so glad you asked. Your donations, your dollars and your hours. They need it all. Give what you can, where you can, when you can. And don't underestimate the power of your words. Talk about these organizations with your friends and families. Help them raise awareness. We got this.